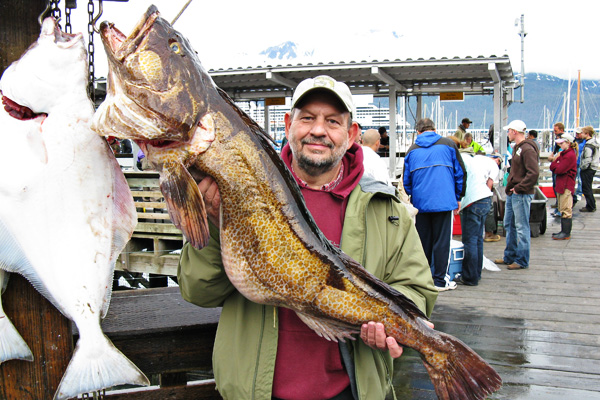 7 Nights Lodging / 6 Days Fishing – Value $3,395   

PRICE $3,095
2 Kenai or Kasilof River Salmon Trips
2 Deep Sea Halibut Trips at the Cook Inlet
1 Float Plane Fly-out for Red Salmon & Bear Viewing
1 Seward Multiple-Species Trip for Halibut, Ling Cod,  Silver Salmon, Rock Fish, Snapper
Two Halibut per Person Limit Every Day!
This is the trip that you've been waiting for!
It's been on your "Bucket List" your whole life! You have wanted to see Alaska! You have wanted to fish in Alaska for some time now! Maybe you've been there and you've wanted to go back. Well you're not getting any younger and it's not getting any cheaper! This trip is action packed with six days of guided fishing all over the Kenai Peninsula and seven nights at the Gone Fishin' Lodge located on the banks of the Kenai River! Each day you will be professionally guided while fishing for eight different species of fish throughout the week! Your guide will have the boat, rods, reels, bait and expertise to put you on the fish! You are going to be fishing for king salmon in the rivers, halibut in the Cook Inlet, multiple species of fish out of Seward in the Gulf of Alaska and flying on a float plane into salmon country where you might even see some bears! Don't procrastinate another year! This is all you with us! This is the real deal! A DEPOSIT OF $500.00 WILL RESERVE YOUR TRIP. DON'T KICK THE BUCKET! CHECK IT OFF THE LIST!
All of our fishing packages include:
All packages are check-in Saturday and check-out the following Saturday
50 pounds of your fish vacuum packed and frozen "FREE" with every package.
Breakfast bar included daily.
Professional licensed guides, and the cleaning of your fish.
All fishing equipment for the trip (rods, reels and bait)
Onsite freezer room / laundry room.
High Speed Wireless Internet in every room.
All salmon trips are 6 hours (half day) but can be upgraded to 10 hour full-day trips.
Custom packages are available upon request.
All packages are subject to a sales tax.
Not included:
Air Fare to Alaska
Fishing License
Lunch & Dinner
Car Rental
Sales Tax
"My experience at the Gone Fishin' Lodge has fulfilled my Bucket List dream trip! The variety of fishing choices you have, provided me a different fishing experience and technique each day and they all resulted in catching fish! I wish I had done this thirty years ago and every year subsequently!" — Tom Wroe (Springville, UT)